This article is for administrators who would like to create and manage assessment form templates.
While you are assessing a Grant you can use existing assessment form templates, or you can make your own. You can also edit existing templates.
Create New Application Form:
If you are in the process of Creating a Grant, you can click New Form.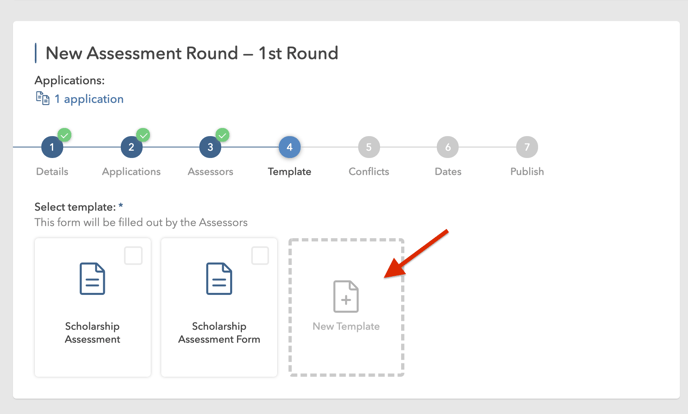 You will be navigated to a form builder tool where you can build your template.
Start by adding any field type to the form.
After you drag and drop your first field you can start to create your first page.
In the middle section (surrounded by red) you can:

add, duplicate and delete sections
edit section settings
more fields to existing or new sections


On the right hand side (surrounded by blue), you can:

add, reorder, delete or duplicate pages
note: page names are only editable via the middle section
Below is an Assessment Form example. This form has fields that will enable the Assessor to rate the Application which will result in a "Total Score". This feature very helpful in the assessment process.

Edit Application Template:
Click the 3 dots on the template you wish to edit.
Note: If a template that you try to edit is in use, some functions might be locked. If you cannot edit how you wish, you may benefit from duplicating the template via the menu at the top right.
Tip: You can also create and manage templates via the templates menu.